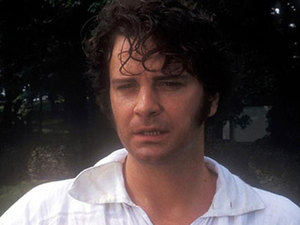 Colin Firth's Mr Darcy emerging soaking wet from a lake in the BBC adaptation of Pride and Prejudice has been voted the nation's most memorable British drama moment of all time.
The iconic scene beat talking points from the likes of Sherlock, Doctor Who and Downton Abbey in the UKTV poll.
A total of 2,000 Britons were asked to name their favorite UK drama moment to coincide with the launch of new UKTV channel Drama.
The top ten most memorable British TV drama moments are as follows:
Mr Darcy's lake scene – Pride and Prejudice (1995) – 23%
Dirty Den hands divorce papers to Angie – EastEnders (1986) – 17%
Sherlock's 'death' – Sherlock (2012) – 14%
The tram crash - Coronation Street (2010) – 12%
Who killed Danny Latimer? - Broadchurch (2013) – 11%
The tenth Doctor regenerates from David Tennant to Matt Smith – Doctor Who (2010) – 10%
First lesbian kiss – Brookside (1994) – 8%
Morse reveals his Christian name – Inspector Morse (1997) – 8%
Zammo injects heroin – Grange Hill (1987) – 7%
Lady Sybil's death – Downtown Abbey (2012) – 7%
Follow us: @digitalspy on Twitter | digitalspyuk on Facebook