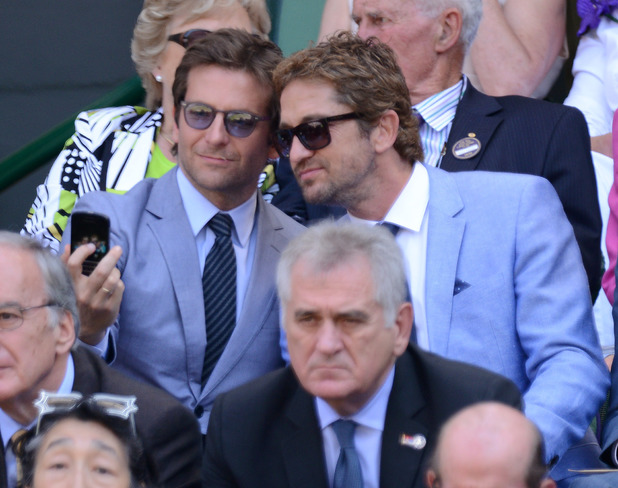 Gerard Butler has expressed surprise that a photograph of himself and Bradley Cooper posing for a self-portrait at the Wimbledon men's singles final has gone viral.
The two actors were in the crowd for Andy Murray's first Wimbledon victory on Sunday, where Cooper was seen taking a 'selfie' of the pair on his smartphone. The image was shared repeatedly on Twitter in the aftermath of the game.
When asked if he knew that the photograph had gone viral, Butler told Digital Spy and other journalists at the Novak Djokovic Foundation gala dinner: "I don't know what you're talking about. I don't go on the internet, so I don't know what [a 'selfie'] is."
The 300 star also joked about the duo's matching suits, saying: "Bradley and I are friends. [The matching outfits] was coincidence. It was a little embarrassing. We didn't mention it at the time.
"We gave each other a hug, then looked down and went, 'Oh, s**t'."
Read more:
http://www.digitalspy.com/celebrity/news/a496768/gerard-butler-had-no-idea-bradley-cooper-wimbledon-selfie-went-viral.html#ixzz2Yal0G6Rd
Follow us: @digitalspy on Twitter | digitalspyuk on Facebook