DIGITAL SPY
Season 4, episode 1 | Aired Wednesday, Sep 18 2013 at 7:16am EDT on
Published Sunday, Sep 22 2013, 6:30pm EDT | By Alex Fletcher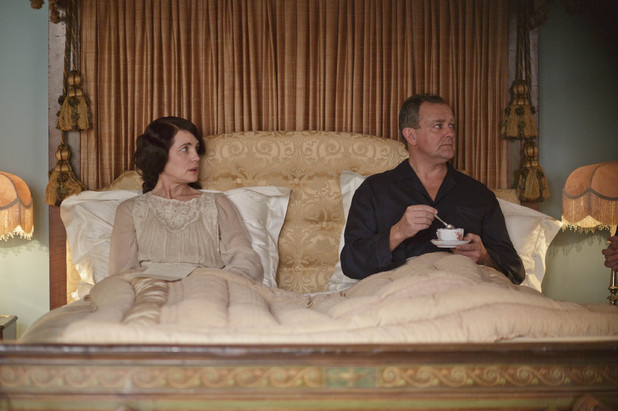 Actors deciding to quit TV shows midway through a program's lifespan can often prove problematic for writers and underwhelm viewers who have grown to love the characters.
So whatever your opinions on the virtues of Downton Abbey (I still struggle with it being in the same bracket as Mad Men/Breaking Bad etc. at the Emmys), you can only applaud Julian Fellowes for the manner in which he has dealt with the loss of his popular leading man Dan Stevens and the scheming Miss O'Brien, Siobhan Finneran.
The first he brutally killed off in last year's Christmas special with a spectacular car crash that had the nation weeping into its Brussels sprouts. Meanwhile, Miss O'Brien's exit was quickly dealt with in this week's series four opener, revealing that the scheming soap-dropper has run away in the night. Will she ever return? We can only hope so, just to see the look on Carson's face.
While Miss O'Brien's sudden disappearance was the talk of downstairs in Downton, everything upstairs was bleak. Very bleak.
Michelle Dockery's Lady Mary stalked the halls, barely managing to break into a frown, snapping at anyone who dared so much as breathe in her presence or suggest that she varied her wardrobe selection from black on black.
The whole Abbey looked like it was in mourning as the opening credits rolled, as darkness surrounded the old mansion.
EXTRA NOTES
- "He's not bad-looking and he's still alive, which puts him ahead of most men of our generation." Lady Mary's verdict on Edith's new squeeze. She's not one to mince her words.
- Bates and Anna were all loved up this week, Julian Fellowes couldn't have signposted more clearly that SOMETHING BAD IS GOING TO HAPPEN unless he quite literally hammered a signpost into the grounds of the Abbey,
- When is Kevin Doyle's Molesley getting his own slapstick spinoff show?
- "I'm not a complete stranger to romance, Mrs Hughes." Carson, you old dog.
- Did anyone else find Lord Grantham's comments to Branson about people losing loved ones absolutely hilarious? It was almost as if the writers had just remembered at the last minute that Matthew Crawley wasn't the only character to pass away in season three. Grantham quickly brushed aside his bumbling with a classic stroke of Britishness. "We'd best get back or we'll be late for lunch." Ah lunch, always enough to help you forget about the death of your youngest daughter.
- Who'd have thought the arrival of an electric whisk would ever be a significant plot point for the most popular drama series in Britain?
- The Dowager's zinger of the week has to be her line about the "awful Mr Lloyd George". "I sometimes wonder if he isn't really German, just pretending to be Welsh."
- "I'd become an Eskimo, if it meant I could marry you." Did anyone else find themselves reaching for the sick bucket when Gregson was laying it on thick with Edith?
- More drunk Ivy, please, Julian Fellowes. Lots more.
- Edna Braithwaite is returning - what are our theories on how this is going to pan out?
Read more:
http://www.digitalspy.com/british-tv/s183/downton-abbey/recaps/a516433/downton-abbey-series-4-ep-1-review-you-must-choose-death-or-life.html#ixzz2fiPon1K0
Follow us: @digitalspy on Twitter | digitalspyuk on Facebook