PEOPLE MAGAZINE
BY SIMON PERRY @SPerryPeoplemag UPDATED 03/12/2015 AT 12:10 PM EDT •ORIGINALLY PUBLISHED 03/12/2015 AT 10:50 AM EDT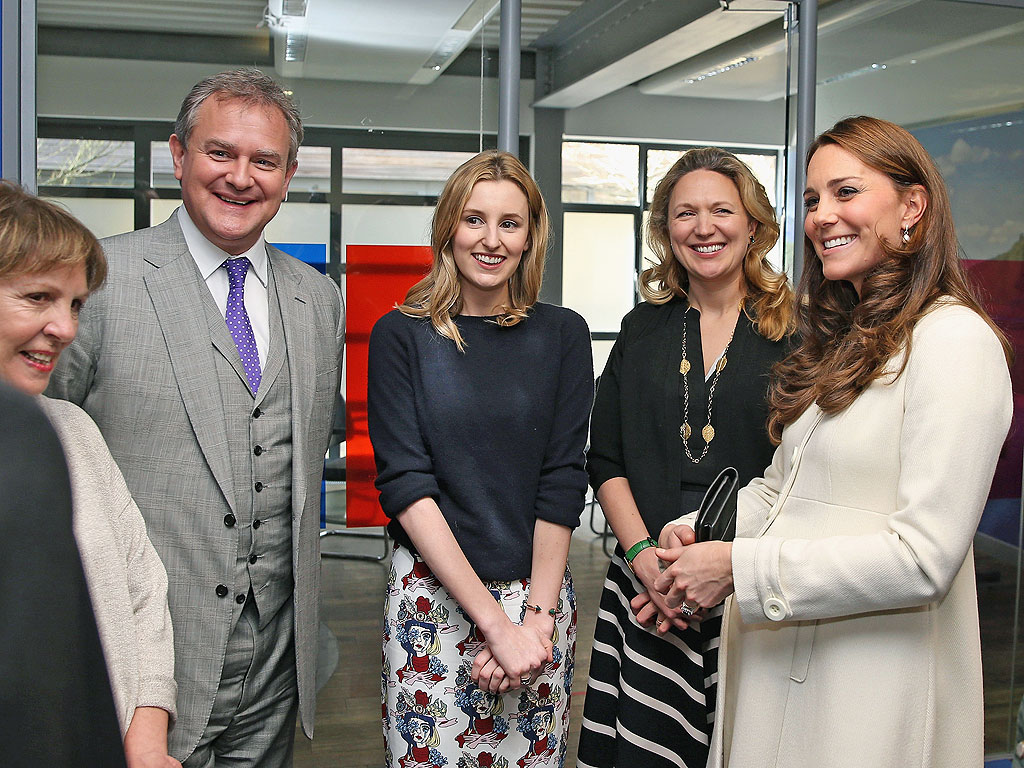 Princess Kate (far right) with Penelope Wilton, Hugh Bonneville and Laura Carmichael of Downton Abbey
CHRIS JACKSON/WPA POOL/GETTY
Princess Kate meeting the cast of Downton Abbey is the most English thing to happen since tea met crumpets.
After touring the set of the smash Masterpiece drama on Thursday, the expectant royal, 33, sat down for a photo with the ensemble.
Anglophiles, you're going to want to pour yourself a cuppa and spend a long moment with this glorious picture.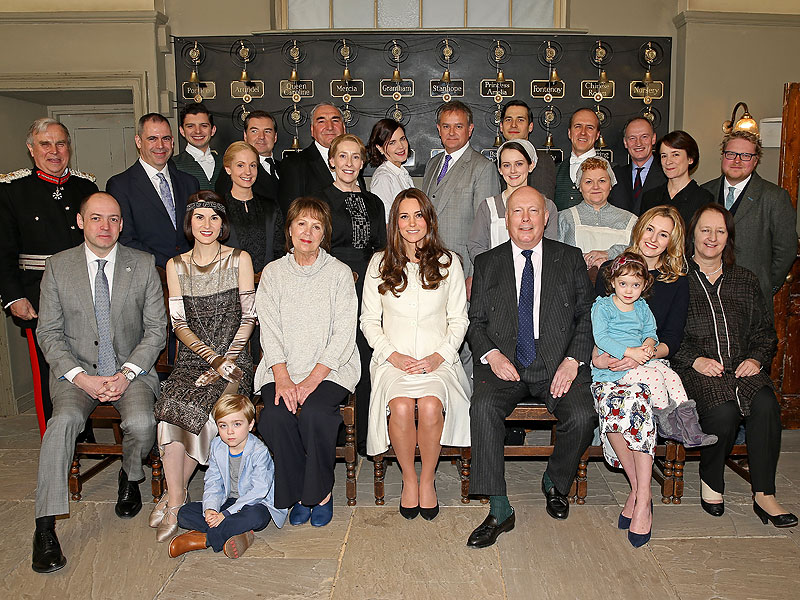 Princess Kate (front row, center) with the cast of Downton Abbey
CHRIS JACKSON / WPA POOL / GETTY
Most of the cast is assembled, with an amusing mix of contemporary and period clothes – a distinction highlighted in the front row, with Michelle Dockery (Lady Mary) in her '20s garb and Laura Carmichael (Lady Edith) in a current look.
"It was a surreal and exciting experience to be at work and be visited by a member of the royal family," Carmichael told PEOPLE. "She has watched the show and loves it and that's really lovely."
Princess Kate with Brendan Coyle (right) of Downton Abbey
CHRIS JACKSON / WPA POOL / GETTY
"She spent the longest time in the kitchen, so me and Lesley [Nicol, who plays head cook Mrs. Patmore] are taking that as a compliment," says Sophie McShera, who plays assistant cook Daisy.
"We told her that two of the hobs work – because we like having steaming pans," Nicol shared.
And though Kate appeared to observers to be a little starstruck, McShera says, "Everyone around her was more starstruck."
Of course, the visit wouldn't be complete without some playful upstairs-downstairs rivalry – in this case, between Brendan Coyle (valet John Bates) and Hugh Bonneville (Lord Grantham).
Princess Kate (right) with Rob James-Collier of Downton Abbey CHRIS JACKSON / WPA POOL / GETTY
Kate ended up spending an hour longer than she had planned. Now, the cast hopes the eight-months pregnant royal is resting.
"I think she should go and have a sit down and take her shoes off," says Nicol. "It's quite hard work on those heels."