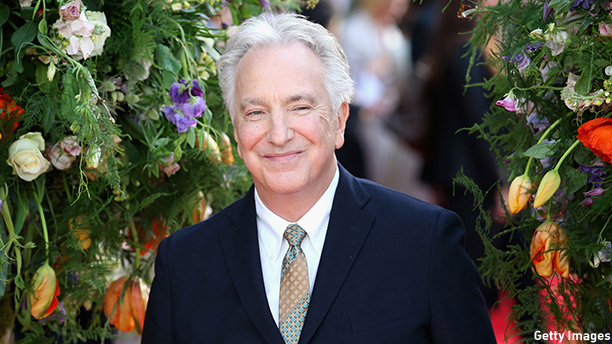 Alan Rickman looks like he might have a lil' secret, what could it be? (Chris Jackson/Getty Images)
British actor Alan Rickman has been off the market for the past 50 years, living with his partner Rima Horton, an economist and politician, for 40 of them. They met when he was 19 and she was 18. But now it's official: they're hitched.
Rickman has been doing the rounds to talk about his recently released film A Little Chaos, and when chatting with a German newspaper he dropped a love bomb.
The newspaper Bild asked what the secret was behind sustaining a long-term relationship without tying the knot, and Rickman politely corrected the interviewer, saying, "We are married, just recently. It was great, because no one was there. After the wedding in New York we walked across the Brooklyn Bridge and ate lunch."
The wedding took place in NYC, where our office is located, and we weren't invited?
We won't take offense, as it appears to have been just the two of them (and at least one witness and someone to officiate the ceremony).
READ MORE HERE:
http://www.bbcamerica.com/anglophenia/2015/04/alan-rickman-ties-the-knot-in-nyc-with-partner-of-50-years/