THE GUARDIAN
Jasper Jackson
@JaspJackson
Wednesday 8 April 2015 10.21 EDT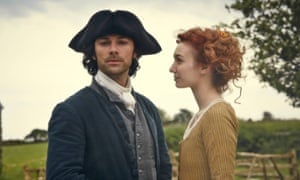 Aidan Turner and Eleanor Tomlinson in Poldark – the BBC has commissioned a second series of eight episodes of the period drama. Photograph: Robert Viglasky/BBC/Mammoth Screen
The BBC is recomissioning Poldark for a second series after the period drama helped BBC1 record its highest ratings share for the first three months of the year in a decade.
The BBC's flagship channel took a 23.3% share of viewers overall and 25.2% during peak times, helped by strong performances from EastEnders, Six Nations rugby, new comedy Still Open All Hours and the corporation's prime-time dramas.
Poldark's consolidated viewing across the season so far has hit 8.1 million.
The series starring Aidan Turner and Eleanor Tomlinson will return for an eight-part run covering books three and four of Winston Graham's series, as will screenwriter Debbie Horsfield.
In an interview with the Guardian last month, Horsfield said she had already begun adapting more episodes of the drama about a soldier returning to Cornwall from the American War of Independence.
Another BBC prime-time drama, Call the Midwife, averaged 10.3 million viewers, making it the most watched drama series across all channels so far this year.
READ MORE HERE:
http://www.theguardian.com/media/2015/apr/08/poldark-second-series-bbc1-winstone-graham-aiden-turner