ITV REPORT 15 May 2015 at 4:32pm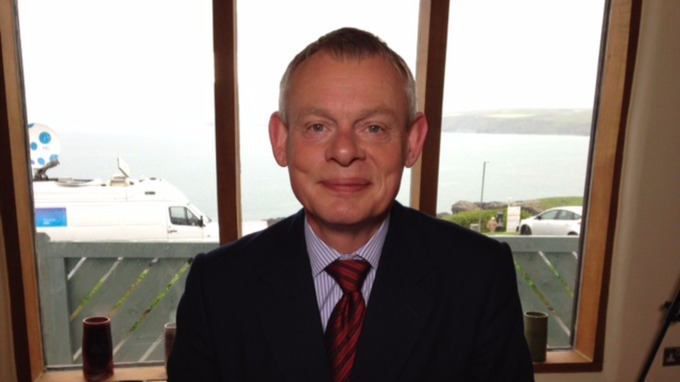 Martin Clunes is back in Cornwall filming the seventh series of his hit ITV comedy drama Doc Martin.
The actor from Dorset took a break from filming to speak exclusively to ITV West Country about his love of the county.
It feels like a second holiday in a way, even though it's hard work. It's a five month slog of very long hours but it's such a nice place to be. There's a lot of hanging around in our game but look where we get to hang around. The amount of hours I've spent gazing out to sea here.
– MARTIN CLUNES, "DOC MARTIN"
Port Isaac has become Port Wenn for the popular series Credit: ITV News
The entire cast and crew stays in the Cornish village of Port Isaac for five months during the busy filming schedule.
The new series, which airs in the autumn, will feature four local babies who have been picked from 150 hopefuls to share the role of the doctor's son.
Around 800 local people also auditioned to be extras.
While we were on set we bumped into a pair of "Clunatics" as Martin Clunes' fans are known as. These two women have travelled all the way from the States to see behind the scenes.
READ MORE HERE (nice video clip too):
http://www.itv.com/news/westcountry/2015-05-15/doc-martin-comes-back-to-cornwall/