THE GUARDIAN
Sarah Hughes
Wednesday 20 May 2015 06.00 ED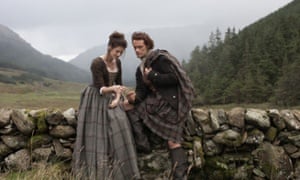 Scots miss … Caitriona Balfe and Sam Heughan in Outlander. Photograph: Starz! Movie Channel/Courtesy//Starz! Movie Channel/Courtesy/
When the US cable channel Starz first announced it was adapting Diana Gabaldon's bestselling Outlander novels, I was conflicted. On one hand, I tore through Gabaldon's high-octane mix of love, war, time travel and 18th-century Scottish history in two feverish days as a student in the mid-90s. On the other, it was hard to imagine how its inimitable mix of hot Highland flings and deep peril was going to play out on screen.
Like Winston Graham's Poldark novels, these are books you read at a gallop, caught up in the story and, yes, I'll admit it, somewhat in the grip of lust, for Gabaldon's strapping Highland hero Jamie and for the woman he loves, the straight-talking, no-nonsense former second world war nurse, Claire Randall.
Claire Randall (Caitriona Balfe) with Jamie Fraser (Sam Heugan). Photograph: Ed Miller/2014 Sony Pictures Television
While the opening credits – scenic shots of Scotland accompanied by a mournful rendition of the Skye Boat Song – initially reinforced fears that this would be heritage TV by numbers, complete with skirling pipes, scenic ruins and brave lads and lassies battling evil redcoat troops, the reality has been clever and more complicated.
Adapted by Ronald D Moore of Battlestar Galactica fame, the Outlander TV series manages to be faithful to the source material while building on it to create a fully realised world in which you swiftly accept the (admittedly slightly ludicrous) central premise that Claire manages to slip back in time to 1743 while visiting some old standing stones on her honeymoon. Stuck in the past, our heroine falls in with a ragtag bunch of Jacobite rebels while unintentionally attracting the wrath of the English captain of dragoons, Black Jack Randall, a man who (in one of the series' more remarkable twists) turns out to be an ancestor of her mild-mannered husband Frank (both are played by Tobias Menzies).
READ MORE HERE:
http://www.theguardian.com/tv-and-radio/tvandradioblog/2015/may/20/outlander-highland-flings-time-travel-have-you-been-watching