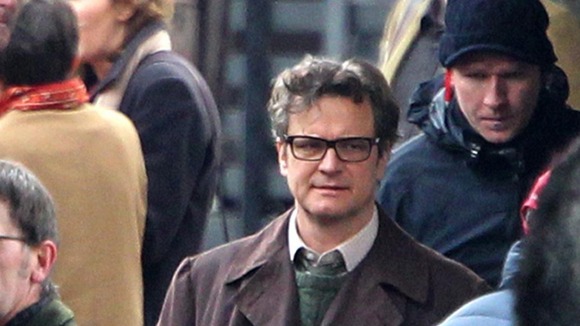 THE HOLLYWOOD REPORTER
7:14 AM PDT 9/7/2013 by David Rooney
Colin Firth and Nicole Kidman play a husband and wife forced to revisit the trauma of his WWII past in Jonathan Teplitzky's drama based on the true story of Eddie Lomax.
An old-fashioned war drama stuffed into a cumbersomely choppy time structure, The Railway Man is well-acted and handsomely produced, but its honorable intentions are not matched with sustained emotional impact or psychological suspense. The film boasts committed work from Colin Firth as a British train enthusiast profoundly damaged by his experience as a prisoner of war, along with tearful support from Nicole Kidman as his wife. But despite those deluxe elements, it never quite transcends its stodgy approach.
Directed by Jonathan Teplitzky (Burning Man), the co-production from Australia and the U.K. superficially recalls Bruce Beresford's Paradise Road in its setting against the backdrop of the fall of Singapore in 1942. Screenwriters Frank Cottrell Boyce and Andy Paterson bring more timid reverence than inspiration to their adaptation of former British Army officer Eric Lomax's memoir. Dropping in references to Brief Encounter and The Bridge on the River Kwai merely underlines how far short they fall of their classic models.
Firth holds nothing back in his painful depiction of stiff-upper-lip moral fiber at war against mental instability and festering hatred. The actor does everything that's required of him, and yet Eric remains an emotionally remote protagonist for such a harrowing story. Still, his portrayal of PTSD will resonate with anyone touched by war and its fallout. Jeremy Irvine (War Horse) also gives it his all as the young Eric.
While she's lovely in her early scenes, Kidman's role becomes a thankless one, called upon largely just to react with moist-eyed, agonized concern. Given that Eric's ultimate course of action is driven as much by love as by the need to close an awful chapter in his life, their relationship could have benefited from more establishing screen time. It's no doubt intended, but those 1980 scenes have an awfully starchy feel that belongs to an earlier period.
READ MORE HERE:
http://www.hollywoodreporter.com/review/railway-man-toronto-review-623629