DIGITAL SPY
By Morgan Jeffery
Monday, Dec 16 2013, 4:00am EST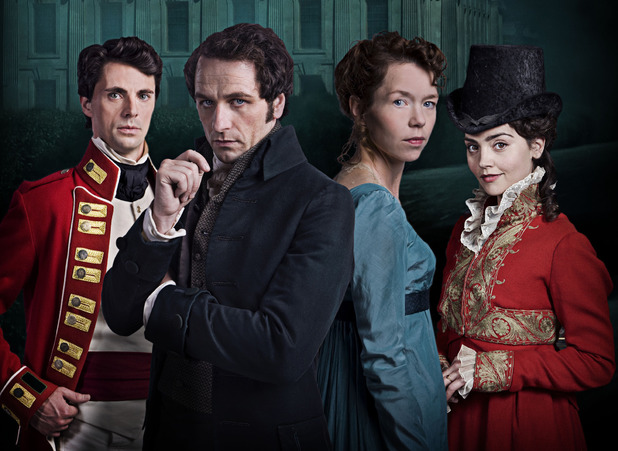 Get ready for a whole new Darcy - The Americans star Matthew Rhys plays literature's most iconic lover (sorry, Heathcliff) in BBC One's new three-part drama Death Comes to Pemberley.
Based on the novel by PD James, Death Comes to Pemberley is part Pride and Prejudice sequel, part murder-mystery and also stars Anna Maxwell Martin, Matthew Goode and Doctor Who's Jenna Coleman.
On set, Rhys opened up about stepping into Colin Firth's shoes - or rather donning his shirt - and reveals why his is a very different Darcy...
Matthew is slightly jealous of his co-star Matthew Goode...
"He's got it all - he's got the rock star looks, the rock star attitude, hollow legs, vast knowledge. He's like Stephen Fry - he knows something about everything... he actually knows a lot about everything.
"He's got that voice. He gets the accent for free - I feel like a complete fake. He's like Rik Mayall playing Flashheart."
Matthew was terrified of following Colin Firth as Darcy...
"It's sort of terrifying - I didn't realize the reaction would be so strong. The book and those characters mean such a great amount to so many people. They have this incredible connection and relationship with those characters, who they should be and how they should be played.
"Colin and Jennifer [Ehle] sort of nailed it. Matthew Macfadyen did brilliantly [in the 2005 film], but he was held up in comparison as well. It's scary to play those slightly iconic characters – the ones that people have that relationship with."
Read more:
http://www.digitalspy.com/british-tv/news/a536252/death-comes-to-pemberley-matthew-rhys-on-darcy-and-billowing-shirts.html#ixzz2ngNpZA3u
Follow us: @digitalspy on Twitter | digitalspyuk on Facebook