MIRROR
Dec 06, 2014 16:13 By Lewis Panther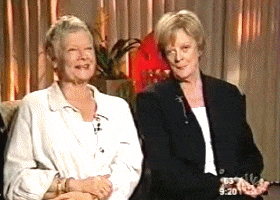 When Judi Dench and Maggie Smith were a couple of unknowns sharing a dressing room nearly 60 years ago they didn't have a game plan, much less a Dame plan.
They weren't banking on stardom and honours. They were just grateful to be working.
And when Dame Judi turns 80 on Tuesday, 19 days before Dame Maggie, they'll be looking back not just on glittering careers, but on a friendship that has spanned their whole working lives.
So we pay tribute to the great Dames – and an incredible joint body of work that's seen them notch up more than 350 award ­nominations between them, winning an amazing 108.
In the tale of the tape, Dame Judi is slightly ahead, with 55 awards from 203 nominations against Dame Maggie's 53 prizes from 147 nominations.
But given that both their mantelpieces must be groaning under the weight of Oscars, Baftas and Golden Globes, who's counting?
Britain's greatest living actresses have an easy-going bond that is clear to see when they do interviews together.
Dame Maggie will playfully point out her pal is a fiery Sagittarius while she was born under Capricorn, making her the junior half of their friendship.
And it's a double act that shows no sign of slowing down anytime soon.
They may be entering their ninth decade but both stage and screen legends are ­determined the show must go on.
Dame Judi has problems with her eyesight which means it is hard for her to watch movies and she struggles to indulge in her favourite hobbies.
Painting and reading are difficult and to learn her roles she has to have scripts read to her.
But she is still busy making films and was nominated for her seventh Oscar last year for Philomena before joining Dame Maggie, who she affectionately calls Mags, in India to film a sequel to their hit movie The Best Exotic Marigold Hotel.
READ MORE HERE:
http://www.mirror.co.uk/tv/tv-news/great-dames-judi-dench-maggie-4759348