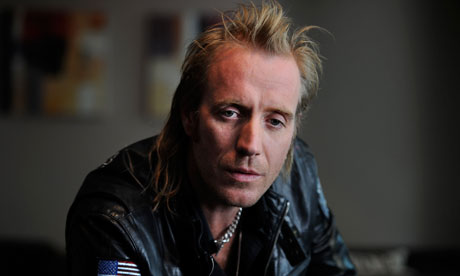 Rhys Ifans: car-crash of an interview. Photograph: Adrian Sherratt
It certainly lives up/down to its billing. It is a car crash. But its most interesting feature is not its uniqueness, but the fact that it is symptomatic of the absurdity of virtually all celebrity interviews.
As a journalistic genre, it has become increasingly clear that the whole process is a waste of time for everyone involved: interviewer, interviewee, PR "minder" and, most importantly, the reader.
As I say, most of the time the system works. But just occasionally the facade collapses to reveal the farcical reality, and that's what happened during Turner's interview with Ifans.
He didn't want to be there and not only made no attempt to compromise but decided to be as rude and offensive as possible.
Turner is an experienced journalist who knows what is required of a one-hour interview, as she explained in her article:
"The game is you listen politely while they plug their film, bang on about their 'method', the brilliance of their co-stars and directors etc. Then in return you hope they will offer up — without you having to prod and pester like some celebrity stalker — the tiniest nugget of anecdote, a shard of light upon their real selves.
Because they hate the game too, and particularly since it is mainly conducted in hotel suites, you feel as if you're engaged in an odd form of prostitution, one where it remains unclear who is the hooker and who the john."
She had been warned by the PR not to touch on certain personal issues, such as his relationships with women. This prior restraint is common.
Believing Ifans to be "a thoughtful man" who might like to discuss "important issues", Turner decided to begin by asking him about his Welshness. That's hardly a controversial subject, but Ifans decided to be obstreperous.
It went downhill from there and Turner soon detected that Ifans was being condescending because he "is one of those actors who believes that he's an 'artist'".
Accepting that he "has a low opinion of journalists" she asked him if he supported Lord Justice Leveson's call for statutory underpinning of press regulation.
After Ifans had consulted the publicist about whether he should talk about the subject, he mumbled something about the press requiring "liberty" but contended "they should also be curtailed when they fucking lie."
He then refused to say whether he had used the Press Complaints Commission and Turner was by now aware that the conversation had gone sour. Evidently, he was glaring at her fiercely.