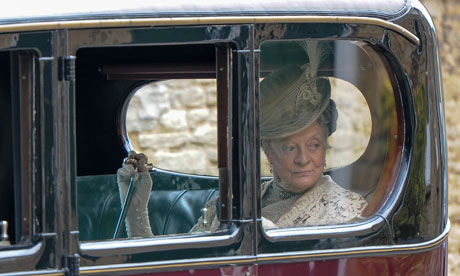 Maggie Smith's role is even more crucial this series as newly widowed Lady Mary haunts the corridors of Downton. Photograph: Joan Wakeham / Rex Features
THE GUARDIAN
Julia Raeside
The Guardian, Tuesday 13 August 2013
Downton Abbey will break from tradition when the new series opens later this year.
Not for series four the Labrador's bottom in the opening credits. This time we begin with the midnight flit of one of the main characters. The servants are seen scurrying to and fro, gossiping about the sudden departure as the kitchen buzzes to the sound of a new-fangled electric food mixer: the unstoppable force of progress making itself felt despite the Crawley family's continuing troubles.
It is 1922 and the family are still black-clad and mourning Downton's recently deceased heir, Matthew Crawley. We rejoin them six months after the car crash that killed off the heart-throb husband of Lady Mary (Michelle Dockery) during the show's Christmas day episode, which was watched by over seven million viewers. We know six months have passed because the dowager countess (Maggie Smith) is informed that a grave takes six months to settle before a headstone can be placed over it.
Exposition continues to play a large part in Julian Fellowes's oddly anachronistic dialogue. At several points in the first episode characters explain that they "choose life", must "sort him out" or that they "had a hunch" about something. Nevertheless, the impeccable timing of Smith's verbal smackdowns continues to buoy proceedings with moment after moment of sublime comic satisfaction.
The presence of Smith is even more crucial this series as newly widowed Lady Mary haunts the corridors of Downton like a sulky wraith, dropping lines from her barely open mouth like great leaden plums. Dockery's portrayal of the icy aristocrat finally fits with her stony countenance as she gets to play genuine sorrow at the sudden loss of her husband
READ MORE HERE:
http://www.theguardian.com/tv-and-radio/2013/aug/14/downton-abbey-season-four