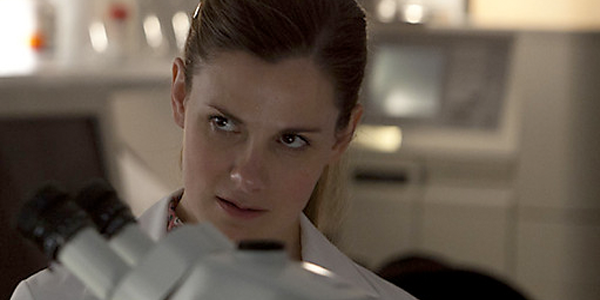 WHAT CULTURE
August 14, 2013 Jaime Grover
Molly Hooper (Louise Brealey) is the adorable, kind hearted and often overlooked pathologist in the BBC television show, Sherlock. Originally written as a one-off for the pilot, she managed to win over the hearts of the show's viewers and over the course of the first two series has now become a fan favourite.
Molly is hopelessly (and blatantly) in love with the lead character, Sherlock Holmes (Benedict Cumberbatch) and yet is often left feeling as though he is unaware of her very existence. She is always there to assist him with any experiments for the cases he's working on and allows him complete access to the lab or the morgue as necessary. Many people believed her to be a bit of a pushover throughout the first series – however – I believe that over the course of the show (series 2 in particular, though) Molly Hooper has become an extraordinary female role model for girls and women around the world to relate and look up to.
Having strong female characters has become extremely vital in film and television in this day and age. Feminism has been working some of its magic in the media and this is a truly brilliant development. Move over, damsel-in-distress! Make way for confident, powerful heroines! Characters such as these are ones to look up to, certainly, but can most of us truly say "Yes! That's me!" whilst watching the clever, sexy, confident Irene Adler kick some butt in A Scandal In Belgravia? Perhaps some of us could (which is excellent), but many might find the powerhouse female archetype difficult to relate to.
This is not to say that it isn't fantastic having these strong female role models – it still proves that women are not always the victims and there are plenty of women out there who can hold their own and take care of themselves. Extremely refreshing. However, a character like Molly Hooper is just what we need. As previously stated, viewers of the show thought of her as a pushover and utterly incapable of standing up for herself throughout the first series. Although she does not have an incredible amount of screen-time, her character has developed tremendously since A Study In Pink due to the excellent writing and also Louise Brealey's phenomenal portrayal of the character.
The situation that Molly is in (unrequited love) and her overall personality represents one of the most believable and relatable characters I've ever witnessed on television. She genuinely cares for people and about what they say down to the last detail. She has relatively low self esteem and doesn't carry herself with much confidence – and yet she smiles even when we know she's upset. She knows that Sherlock doesn't reciprocate her feelings and yet she is willing to stick around and be there as a friend if that's what he would prefer. That is unbelievable strength and something that many women can relate to or aspire to be.
The first time that Molly really proved her inner strength to the viewers was after being completely embarrassed by Sherlock at the Christmas party in A Scandal In Belgravia. Rather than staying silent – or the other extreme of slapping him in the face – she simply expressed her disappointment in his actions. She is the only character on the show that has actually gotten Sherlock to apologize and honestly mean it. Molly deserves so much respect for how she handled this situation – not too many others would have done the same.
Read more at
http://whatculture.com/tv/sherlocks-molly-hooper-the-woman-that-counts.php#Mj2aYgr5ZGEgAGlI.99 Read more at http://whatculture.com/tv/sherlocks-molly-hooper-the-woman-that-counts.php#Mj2aYgr5ZGEgAGlI.99