LOS ANGELES TIMES
Oct. 23, 2013 | 11:57 a.m.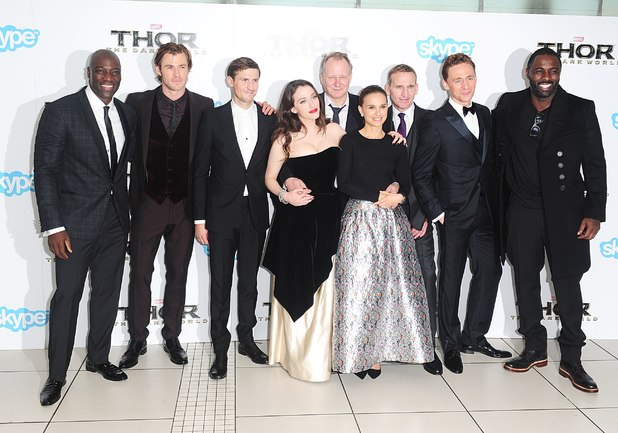 Chris Hemsworth, Tom Hiddleston and Natalie Portman arrived in grand style Tuesday to celebrate the world premiere of Marvel's newest superhero sequel, "Thor: The Dark World."
The film, directed by Alan Taylor ("Game of Thrones"), arrives in U.S. theaters Nov. 8, but is set to open a week earlier in the U.K. The cast was all smiles as they walked the red carpet.
The movie sees Hemsworth's brawny superhero form an uneasy alliance with his untrustworthy brother Loki (Hiddleston) in order to save the Nine Realms from a devious plan hatched by the Dark Elf Malekith (Christopher Eccleston) that poses great danger to the universe, and especially to Thor's lady love, Jane Foster (Portman).
On the set of the film last year, Marvel movie chief Kevin Feige said the new film took a more practical approach with the fight scenes and the locations — "Thor: The Dark World" traveled to Iceland and shot across England, hoping to lend authenticity to the sci-fi-inflected adventure.
"When you have Hemsworth looking astounding but being in a big red cape and a big outfit and Eccleston in this very extreme makeup and spectacular costume design but in these real environments, suddenly they seem more real, the entire fantasy that we're asking the audience to buy into feels more real," Feige said.
Early reviews of the film have praised it as entertaining, with Variety's Justin Chang describing "The Dark World" as a "robust, impersonal visual-effects showpiece [that] proves buoyant and unpretentious enough to offset its stew of otherwise derivative fantasy/action elements."
READ MORE HERE:
http://herocomplex.latimes.com/movies/thor-the-dark-world-chris-hemsworth-tom-hiddleston-shine-at-premiere/#/1