THE GUARDIAN
Tara Conlan
theguardian.com, Monday 15 September 2014 08.00 EDT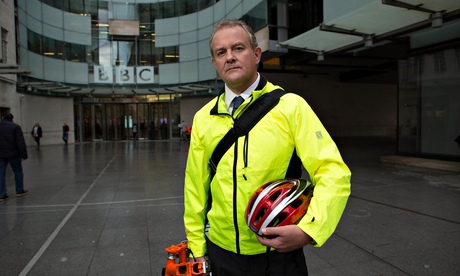 Hugh Bonneville has signed up to reprise his role as Ian Fletcher in the second series of BBC's acclaimed mockumentary W1A. Photograph: BBC/Jack Barnes
BBC mockumentary W1A is to return for a second series next year with Hugh Bonneville's head of values, Ian Fletcher, facing the thorny issue of the corporation's charter renewal.
Downton Abbey star Bonneville has signed up for another outing of the follow-up to writer John Morton's acclaimed Olympics comedy Twenty Twelve.
The new four-part series of W1A will begin with a 60-minute episode, followed by three 30-minute ones. It is being produced by BBC in-house comedy.
After the success of the first series of W1A – which featured BBC presenter Clare Balding and creative director Alan Yentob and drew 1.6 million viewers for its opening episode on BBC2 – the corporation was keen to let the cameras into New Broadcasting House for a second time.
Further casting details, storylines and cameos are still being discussed.
Jessica Hynes and Olivia Coleman, fleetingly, reprised their Twenty Twelve roles in W1A. There was speculation that BBC director general Tony Hall – referred to as "Tonyship, Lord director general" in the show – might appear in future episodes.
The BBC said in a statement on Monday: "Until the cameras roll it won't be known exactly what crisis will be averted or indeed where Ian's desk will be."
However, in the second series there is an indication that charter renewal will be covered as the BBC added that "with charter renewal in 2016 getting ever closer, Ian's job as Chair of the Way Ahead Task Force will be even more important than ever".
READ MORE HERE:
http://www.theguardian.com/media/2014/sep/15/bbc-mockumentary-w1a-return-hugh-bonneville