THE GUARDIAN
Lanre Bakare
January 27, 2015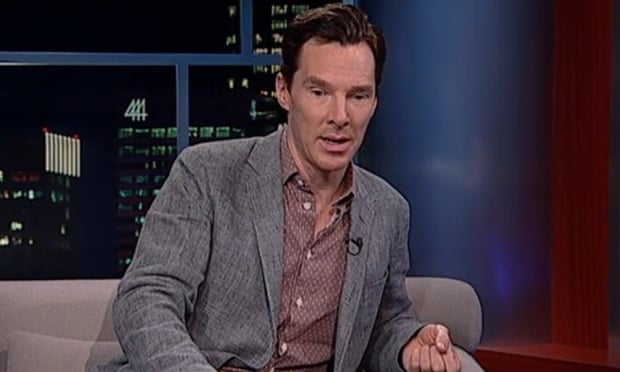 Benedict Cumberbatch on the Tavis Smiley talkshow, when he referred to people of colour as 'coloured'. Photograph: PBS
Benedict Cumberbatch has apologised after referring to black actors as "coloured" during an interview on US television, saying he is "devastated" to have caused offence.
The Sherlock actor said he was "an idiot" after he used the phrase during a debate, ironically about the diversity problems that black British actors face in the UK compared to the US, which he argued has been more open to casting them.
Talking on the Tavis Smiley show on PBS, Cumberbatch said: "I think as far as coloured actors go, it gets really different in the UK, and a lot of my friends have had more opportunities here [in America] than in the UK, and that's something that needs to change."
Reaction was mixed after the actor – who has been nominated for an Oscar for his role in The Imitation Game – used the outdated term, with many praising the sentiment of his argument but lamenting his poor choice of words.
Benedict Cumberbatch has apologised. Photograph: Anthony Harvey/Getty Images
A spokesperson for the anti-racism charity Show Racism the Red Card, told the Independent: "Benedict Cumberbatch has highlighted a very important issue within the entertainment industry and within society. In doing so, he has also inadvertently highlighted the issue of appropriate terminology and the evolution of language."
They added that the organisation feels the term "has the potential to cause offence due to the connotations associated with the term and its historical usage".
In a statement Cumberbatch said: "I'm devastated to have caused offence by using this outmoded terminology. I offer my sincere apologies. I make no excuse for my being an idiot and know the damage is done."
READ MORE HERE:
http://www.theguardian.com/culture/2015/jan/26/benedict-cumberbatch-apologises-after-calling-black-actors-coloured