DIGITAL SPY
By Kate GoodacreWednesday,
Jan 28 2015, 7:01pm EST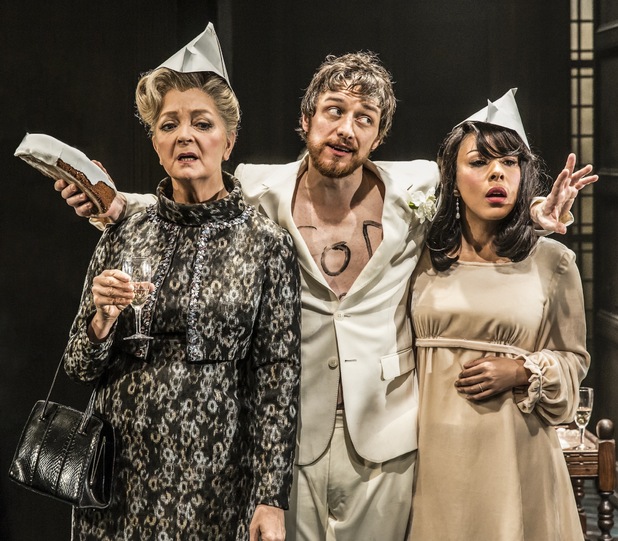 Serena Evans as Lady Claire, James McAvoy as Jack and Kathryn Drysdale as Grace
Originally penned in an era between the Profumo and Jellicoe political scandals, Peter Barnes's The Ruling Class is a caustic, uncompromising and deeply underrated character study. Anyone who may have feared that its notions of rigid hierarchy, polite expectation, jumped-up patriotism and reactionary politics would be outdated in the 21st century need not worry.
Trafalgar Transformed's artistic director Jamie Lloyd has reunited with James McAvoy for The Ruling Class following their successful reinterpretation of Macbeth at Trafalgar Studios in early 2013, and McAvoy's troubled Jack - who becomes the 14th Earl of Gurney after his father dies in an unusual accident - is a supremely skilled orator.
Diagnosed as a paranoid schizophrenic, the 14th Earl believes he is another kind of Lord entirely, returning to the family seat after seven years away proclaiming himself to be the resurrection and the life. Jack argues his case with the skill and duplicity - deliberate or otherwise - of a politician on the Radio 4 Today program, most notably when he's trying to convince his family that his fictional wife actually exists in a bid to avoid being married off.
McAvoy clearly relishes the opportunity to work with a surreal script packed with puns, innuendo and intricate wordplay, and his silver-tongued delivery and performance oozes with the kind of easy charm that these days wins votes and election to the seat of power. He breaks the fourth wall at regular intervals with a glint in his eye, at one point quipping: "What a lovely crowd. God bless you."
Mental illness doesn't care for class or background or breeding, and for all of the mania so skilfully and physically portrayed by McAvoy, it's the quieter moments that leave the greatest impact.
When Jack laments that his greatest regret is his "many wasted years", it's sentiment that may well resonate with many who have experienced the black dog's indiscriminate grip first-hand. The 14th Earl's quiet crisis at the end of the first act as all his safety mechanisms collapse around him, his responsibilities as a husband and father really hit home, and the brutal, real world around him reveals itself, is utterly chilling. You can't help but feel for him in that moment.
Elsewhere Joshua McGuire - recently seen as John Ruskin in Mike Leigh's Mr Turner - is note-perfect as simpering, snivelling, self-serving Conservative politician Dinsdale, Jack's cousin, while Anthony O'Donnell (as communist Gurney family butler Daniel Tucker) and Elliot Levey (Jack's psychiatrist Dr Herder) also turn in magnificent performances.
Read more:
http://www.digitalspy.com/celebrity/review/a624851/the-ruling-class-review-james-mcavoy-is-magnetic-in-caustic-class-comedy.html#~p2NjOlEBkshhBH#ixzz3QFSgP7fd
Follow us: @digitalspy on Twitter | digitalspyuk on Facebook