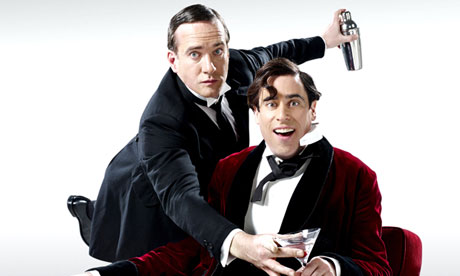 Matthew Macfadyen will star as Jeeves (left) and Stephen Mangan as Wooster at the Duke of York's Theatre. Photograph: Uli Weber
There are the books of course, TV series in the sixties and nineties, radio adaptations and a musical take from Andrew Lloyd Webber but, dash it, never a stage play featuring one of the greatest comedy double acts ever conceived.
On Monday a corrective to that will be announced. PG Wodehouse's Jeeves and Wooster are finally coming to the West End in a new play starring Stephen Mangan as the endearingly idiotic Bertie and Matthew Macfadyen as his brilliant, unflappable butler.
Mangan, recently seen in the BBC2 sitcom Episodes, said he was "ridiculously excited" at the prospect, although he admitted he had not read any of the Wodehouse books before being offered the role.
"I always meant to," he told the Guardian. "Everyone tells you how funny they are, but for some reason I never got round to him. They gave me the script, I started reading some books and I've been ploughing through them since then. It's like crack cocaine.
"I'm quite pleased with myself for holding out for so long because it means I've got them all in my head. I don't think anyone else can quite coin a sentence with such invention and wit. Wit almost doesn't seem a big enough word for it. The sheer brilliance of the writing almost takes your breath away."
The play, called Perfect Nonsense, by the brothers Robert and David Goodale, is largely based on Wodehouse's 1938 book The Code of the Woosters, described by some critics as his best work.
The play will open at the Duke of York's Theatre on 30 October after short runs at Richmond Theatre and the Brighton Theatre Royal.