GUARDIAN
Jason Deans
The Guardian, Wednesday 26 February 2014 15.59 EST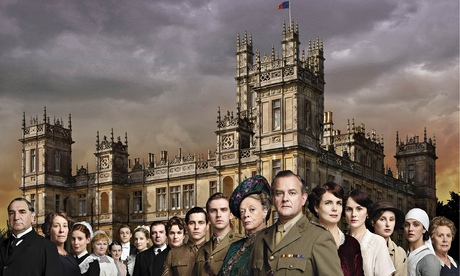 Downton Abbey helped boost ITV's share of the UK television audience. Photograph: ITV
ITV's main network increased its audience share last year for the first time since 1990, on the back of successful shows including Downton Abbey, Broadchurch and I'm a Celebrity ... Get Me Out of Here!
The channel had a 16.2% share of all viewing (including the ITV HD simulcast channel and ITV1+1 timeshift service) in 2013, compared with 15.7% the previous year.
The last time ITV's annual share of viewing grew, John Major was prime minister and the broadcaster dominated British television with shows such as London's Burning, Jeeves and Wooster and Minder, starring George Cole – and The Big Match was still must-see football viewing. At the time, there were still only four terrestrial channels and BSkyB's satellite service was in its infancy.
In 1990, ITV had a 44% audience share and Coronation Street was the most popular show on TV, with its highest rating episode attracting nearly 20 million viewers.
The TV company now faces competition from hundreds of digital channels, but broadcast the second and third most watched programmes of the year in 2013 – after BBC1's New Year's Eve Fireworks – the finals of I'm a Celebrity (13.5 million viewers) and Britain's Got Talent (12.8m). Downton Abbey (12.1m), Coronation Street (11.3m), X Factor (11.2 million) and Broadchurch (10.5m) also featured in the 2013 TV ratings top 20.
READ MORE HERE:
http://www.theguardian.com/media/2014/feb/26/downton-abbey-helps-increase-itv-audience