THE GUARDIAN
Brian Moylan
Thursday 6 November 2014 16.12 EST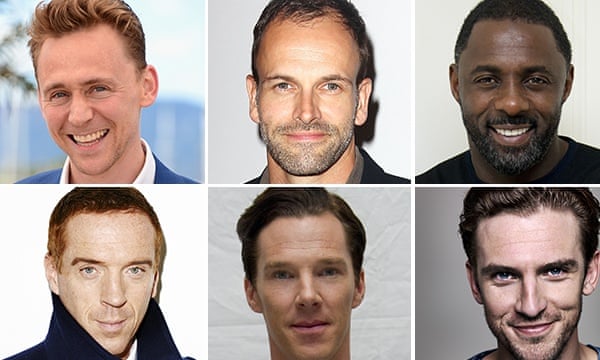 Composite of English actors: Tom Hiddleston, Jonny Lee Miller, Idris Elba, Damian Lewis, Benedict Cumberbatch and Dan Stevens. Photograph: Rex Features
Maybe we should blame it on Hugh Grant, that floppy-haired, bumbling star of so many romantic comedies of the 90s and 00s, including Love, Actually (which goes into endless repetition as the holiday season approaches). It just seems like Americans cannot get enough of posh British dudes – though our tastes seem to be changing with the times.
The latest to grace our shores on a regular basis is Tom Hiddleston, most widely know for playing Loki in The Avengers and two Thor movies next to Chris Hemsworth (the pile of Australian muscle is another type Americans love, but that is a whole different study entirely). Hiddleston is slated to star in The Night Manager, a British spy miniseries based on a John le Carré novel, next year for AMC. The London-born actor is sure to set hearts aflame with his classic good looks, upper-class accent, and Eton-bred affectations as well as his ability to negotiate the highest level of espionage.
This seems to be a bit of a divergence from the fey British blokes from the past that we love. While there's still plenty of love for Colin Firth, he and Grant were the kind of obsequious Brits who would fade into the background and mumble into their shoes about how they felt their souls were connected to Renée Zellweger (an American posing as one of the Queen's subjects and therefore a cypher for all the American women in the audience). But Hiddleston is playing a spy. He's a man of action and danger – and those are our new English boyfriends.
Look at Benedict Cumberbatch. Though he disappointed plenty of his ardent fans with news of his recent engagement, he's still the hottest Brit on American television. He is Sherlock Holmes, a powerful, master-of-the-universe-type who is not only plugged into the highest echelons of British intelligence but also solves all those crimes. We even gave him an American Emmy for his troubles. Cumberbatch also plays Khan in Star Trek – like Loki, a villain and brilliant schemer who holds vast resources of physical and magical power.
And there's more. We have Jonny Lee Miller on Elementary saving American lives one crime at a time. There's Idris Elba's Emmy-nominated turn on Luther, and David Tennant's cranky Scottish cop on Broadchurch, both modest hits on our shores. There are even some British actors hiding out as Americans, like Rupert Friend as a hard-nosed CIA agent on Homeland and Dominic West as a take-charge romantic lead on The Affair. (Vulture has a handy guide for telling all these high-class types apart.) And let us not forget about Dan Stevens from Downton Abbey, the show which very well might have incited this recent bout of Anglophilia. Though his character Matthew Crawley died in a car crash he is now trying to take his career to the next level by storming Hollywood.
READ MORE HERE:
http://www.theguardian.com/tv-and-radio/2014/nov/06/benedict-cumberbatch-idris-elba-americans-cant-resist-a-posh-british-man